Businesses often posts product reviews and testimonials in their websites. They avail services of digital marketing professionals to market or sell their products or services. In this context, many businesses commit social media sins that they must not commit. Some of the social media sins are mentioned as follows:-
Using Bombastic Words
If you are marketing or selling products or services then you need to abstain from using words that are incomprehensible. In marketing or selling process you need to use simple words so that the buyers can easily understand what you are trying to convey to them. Avoid being a corporate robot. Don't try to portray yourself as a moron.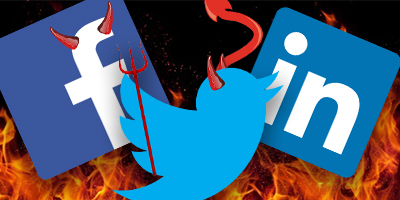 Keeping Paid Tweets Hidden
Many businesses use the services of SEO or SMO experts to sell their products or services. Digital marketing often requires web marketers to write paid contents on client's behalf. If that is the situation then allow your buyers to know that you are using paid tweets for marketing purposes. Don't cover up that you are using paid tweets as if it gets blown open then the respect that followers have for you will be gone.
Disrespecting Customers
Business is all about respecting the customers. If you maintain online portals then the followers of your business can turn to be potential customers. Respect them and treat them well. This can help you enhance your business and profits.
Using an Anonymous Avatar
Many may consider writing anonymous reviews for their products. This is not recommended as it can lead to a PR disaster. If customers come to know about this then they may not trust your business and therefore avoid your products or services.
Not Keeping Promises
If you promise to deliver a particular set of products or services then deliver that. Keep promises on delivering the right product or services, have integrity and don't be a hypocrite.
Not Paying Heed to Customer Complaints
Customers may complain about your products and they may post negative reviews on your business website. You must not ignore customer's complaints.
There are other social media sins and that includes "being afraid of mistakes". It is better not to be afraid of mistakes. You need to try out new ideas, you need to take risks, be experimental and creative.